CAPSICUM ANNUUM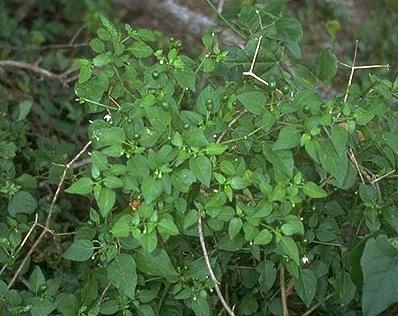 SOLANACEAE - Nightshade or Potato Family

Different species of this family are found as herbs, shrubs, trees, and vines. The leaves are alternate and simple and the flowers are bisexual, actinomorhic, with the sepals and petals fused into a tube, and the stamens are sometimes porcidal. The fruit is a berry or capsule.

World wide there are 85-90 genera and approximately 2800 species. We have 17 genera and 67 species in the Texas flora, including endemic species from two genera. Members of this family produce a wide range of toxic alkaloids, i.e. Atropa belladonna - deadly nightshade, Datura - Jimsom weed, and Nicotiana tabacum - tobacco. Those members with an economic importance are: Nicotiana tabacum - tobacco, Lycopersicon - tomato, Solanum tuberosum - potato, Solanum melongena - eggplant, Capsicum annuum - peppers and Petunia axillaris - ornamental annual. The potato has the most positive economic value of any member of this family and its introduction in Europe was a key component to the Industrial Revolution.

Peppers are grown in most countries of the world, Asia being the largest producer in terms of production. Use of peppers and spices has increased more than 21% since 1994 (FAO, 1998). New Mexico is the leading state in pungent chile production with more than 21,000 acres under cultivation in 1998. Estimates are that more than 7.5 million acres of capsicum are grown in the world. Source: The Chile Institute, New Mexico State University, Las Cruces, NM.

Pepper fruits are considered to be vegetables, but botanically speaking, they are, berries. Pepper types are usually classified by fruit characteristics, i.e., pungency, color, fruit shape, as well as by their use. Virtually all pepper cultivars commercially cultivated in the United States belong to the species C. annuum. However, one principal type, "Tabasco", belongs to C. frutescens. Two other pepper species gaining popularity are C. chinense, "Habanero" and "Rocotillo"; and C. pubescens, "Peron" and "Manzano". Peppers are commonly divided into two groups, pungent and non-pungent, also called hot and sweet. Sweet peppers include the bell pepper, paprika, pimiento and the sweet yellow wax peppers. These are the most popular types of pepper in the United States today, with more than twice the acreage planted to sweet types as to pungent peppers.



ORIGIN


There are two centers of diversity, Mesoamerica and the lower Andean region from Bolivia to Southern Brazil. It is assumed that the peppers originated in the latter region and initially spread north through dispersal by birds. In recent times, the more important center of diversity (at least for cultivated varieties) is the Mesoamerican area, specifically for cultivars of Capsicum annuum, thought to have been developed from the chiltepin (Capsicum annuum var. aviculare). This theory appears a little inconclusive, however, since varieties of C. annuum exist even in South America while the chiltepin does not seem to. After their discovery by European explorers (starting with Columbus who brought back "red pepper"), the capsicums spread quickly all around the tropics and beyond them, often even arriving through trade connections before the explorers did. This may have contributed to the botanical uncertainties, e.g. making researchers name Capsicum chinense that way -"Chinese"- because they wrongly thought it came from there. Quite certainly, it partly accounts for the wide variety of Capsicum annuum as compared to the other cultivars, because that species was the first to be found and spread by European explorers.



CHILE PUNGENCY


Chile pungency levels are the results of two factors, the plant's genetics and the environment in which it grows. Although plant breeders can produce a chile with a certain amount of relative heat, genetic control is not yet fully understood. For example, 'NuMex Joe. E. Parker' was selected to produce "medium" pungency pods, however the environment in which this particular variety is grown will have great effects on the heat levels, water amounts and temperature levels are just a couple of influencing factors.

Methods To Determine Pungency

The most common way to test chile pungency is to taste the pod, this method, although quick and cost effective, may leave the tester in some pain. There are two other ways of testing pungency as well, the scoville organoleptic test and high performance liquid chromatography.

The Scoville test is a refined, systematic approach. It was the first laboratory approach used to measure pungency in chiles. In this method, human subjects taste a chile sample and record the heat level. The samples are diluted in the laboratory until heat can no longer be detected by the tasters. This dilution is called the Scoville Heat Unit. This procedure can be appropriate in many circumstances, as it is more accurate than the taste test ("bite the chile") technique. This test is also less expensive than more advanced laboratory techniques, but this method has limitations. Measuring pungency with this technique is still subjective and depends on the taster's palate and sensitivity to the chemicals that are responsible for pungency. In addition, there are serious limits on how many samples a taster can handle within a reasonable time.

High-performance Liquid Chromatography
The most accurate method for measuring pungency in chiles is a High Performance Liquid Chromatography (HPLC). In this procedure, chile pods are dried, then ground. Next, the chemicals responsible for the pungency are extracted, and the extract is injected into the HPLC device for analysis. This method is more costly than the Scoville test or the Taste test but much more accurate. This method measures the total heat present as well as the individual capsaicinoids present.



SCOVILLE HEAT UNITS SCALE




The following is a list of chiles, put into a scale to show the relative pungency levels and their Scoville Heat Units.
| | | | |
| --- | --- | --- | --- |
| Name | Pod Type | Species | Scoville Units |
| Orange Habanero | Habanero | C. chinense | 210,000 |
| Red Habanero | Habanero | C. chinense | 150,000 |
| De árbol | De árbol | C. annuum var. Annuum | 150,000 |
| Tabasco | Tabasco | C. frutescens | 120,000 |
| Chiltepin | Tepin | C. annuum var. Aviculare | 75,000 |
| Pequin | Pequin | C. annuum var. Aviculare | 70,000 |
| Thai Hot | Asain | C. annuum | 60,000 |
| Jalapeno M | Jalapeno | C. annuum | 25,000 |
| Long Slim Cayenne | Cayenne | C. annuum | 23,000 |
| Mitla | Jalapeno | C. annuum | 22,000 |
| Santa Fe Grande | Hungarian | C. annuum | 21,000 |
| Aji Escabeche | Aji | C. baccatum | 17,000 |
| Long Thick Cayenne | Cayenne | C. annuum | 8,500 |
| Cayenne | Cayenne | C. annuum | 8,000 |
| Pasilla | Pasilla | C. annuum | 5,500 |
| Primavera | Jalapeno | C. annuum | 5,000 |
| Sandia | New Mexican | C. annuum | 5,000 |
| NuMex Joe E. Parker | New Mexican | C. annuum | 4,500 |
| Serrano | Serrano | C. annuum | 4,000 |
| Mulato | Ancho | C. annuum | 1,000 |
| Bell | Bell | C. annuum | 0 |




THE TWO BEST KNOWN BIRD PEPPER VARIETIES IN THE US


Capsicum annuum var. Aviculare

TEPIN - Called Chiltecpin, Chiltepin, Chile mosquito, Chile de pajaro, Chile silvestre or Tecpintle. The world's hottest pepper, collected from wild stands that grow in the mountains of northern Mexico and southern Arizona. Pods are round, 1/4" across, turns red when ripe. One ounce of this dried pepper with seeds removed will produce a detectable hotness in 30,000-50,000 ounces (over 300 gallons) of salsa!

PEQUIN - Called Chilipiquin in Mexico, Turkey Pepper in Texas, Grove Pepper in orange groves in Southern Florida. Pods oval, less than 1" long with the smallest pods being the hottest. Grows wild in Texas, Florida, and south throughout the Americas.



AN INTERESTING STORY ABOUT BIRD PEPPERS


Birds cannot taste the hotness in peppers and the fruit of the bird peppers are so small that they are eaten whole. The bird's gizzard break up the pods and the seeds pass through undigested and surrounded by nitrogenous fertilizer. Mammals, on the other hand, are discouraged by the extreme hotness of the bird peppers. In Texas, where they call them Turkey Pepper, the wild birds intentionally eat a lot of peppers, which then flavors their flesh and makes the turkeys distasteful to carnivores.